At Central Machine & Marine Inc. (CMM), we are skilled in machining & millwrighting large and small-scale components of a wide variety of materials to the tightest of tolerances. Our machining envelope is capable of handling large and heavy projects due to the size of our machine bay and crane capacity. Our vertical milling centre (VMC) has a 24 multi-auto-tool changer with a 4-axis rotary table allowing for precision indexing. We have four horizontal boring mills (HBM), with three being computer numerical control (CNC) and one that is manual, with a weight limit of 24.9 tons. Our machines are capable of a 114" max turning capacity.
We provide surface and cylindrical OD grinding, Blanchard grinding, lapping, honing, line boring, and water jet cutting. Our 5-axis water jet machine is a preferred method of cutting for materials sensitive to high temperatures. In addition, it reduces environmental waste by not producing any by-product into the air, which also ensures the health and safety of our employees. This machine is capable of cutting profiles in sheet or plate, from stainless steel, carbon steel, brass, to Teflon and aluminum, and more.
From pumps to pelletizers, to custom gearboxes and pipe assemblies, we can handle any size and complexity of project to service our customers within the manufacturing industry.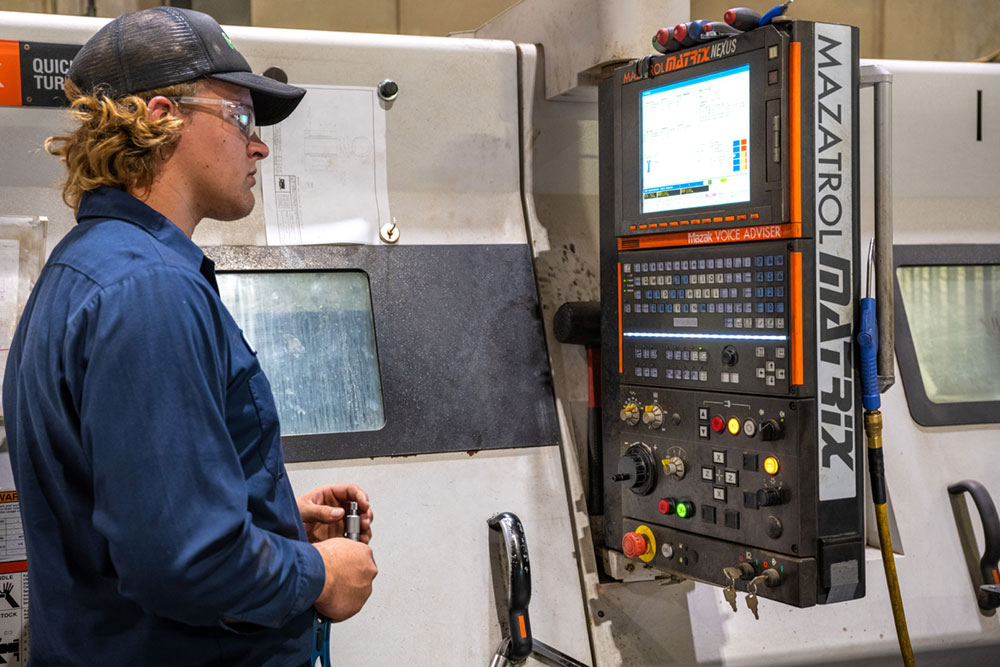 At CMM, some of the projects we are known for machining & millwrighting, but not limited to, include a wide variety of pumps (such as overhung, centrifugal pumps, in-line, deep well, etc.), turbines, process components (such as piping, flanging, vented blinds, valve modifications in drains and bypasses, etc.), towers, vessels, and heating components and reactor equipment. We service the petro-chemical, wind, gas-fired and nuclear industries, as well as the mining, forestry and food and agriculture industries.
Our machining capabilities and technology on location are:
Machining (Turning):
Two large lathes with a five-ton weight limit between centres that can turn 29" in diameter, with 43" diameter at the chuck x 180" long, and multiple standard size lathes.
We have four vertical boring mills – the largest has a 40-ton weight limit with a swinging diameter of 196" x 96" long.
Horizontal Boring Mills (HBM):
Four horizontal boring mills (three are CNC, one is manual); the largest is a TOS WHN Q 13 – it has a weight limit of 24.9 tons, with a table size of 71"x 98" and travel in the X-axis of 157.5", the Y-axis of 118" and the Z-axis of 62.9", with a W-axis of 31.49"and a 40-post automatic tool changer.
CNC Lathes (Turning):
Two CNC lathes with the largest capable of swinging 33" in diameter by a shaft length of 80".  Both machines have live tooling capabilities allowing for coordinate milling, drilling or engraving.
Vertical Machining Centre (VMC):
One Haas model CNC VF-5/50 machine. This machine can handle a two-ton part. The table travel is 50" in the X-axis with 26" in the Y-axis, and has a Z travel of 24". It has a 24-multi-auto tool changer complete with a four-axis rotary table allowing for precision indexing.
Water Jet Machine:
An Intec-G2® Series water jet cutting machine – can cut material up to 6" in thickness, with an X-axis of 151" and a Y-axis of 75". Can deliver positional accuracy of 0.05mm.
Machining & millwrighting solutions made simple - contact us today to get started